(Article originally featured in the 2023 Time Capsule Edition of SIN – read more issues here).
Beginnings:
There were the first glimmers of student radio for Galway from the late 80s with the temporary RAG Week "UCG FM", but the push for a fulltime student radio station for Galway really began in earnest with the founding of a university Radio Society in 1993. The launch of the society happily coincided with the start of Michael D. Higgins' tenure as Minister with responsibility for broadcasting, as while he was minister he championed community radio in its infancy. With the support of Seán Mac Íomhair, Director of A/V services at UCG (University of Galway), and Gearóid Ó Tuathaigh, VP of UCG, an application was made jointly by UCG and Galway RTC (ATU). 1994-95 was then spent securing the funding and facilities that had been pledged by the two educational establishments and preparing to go on air.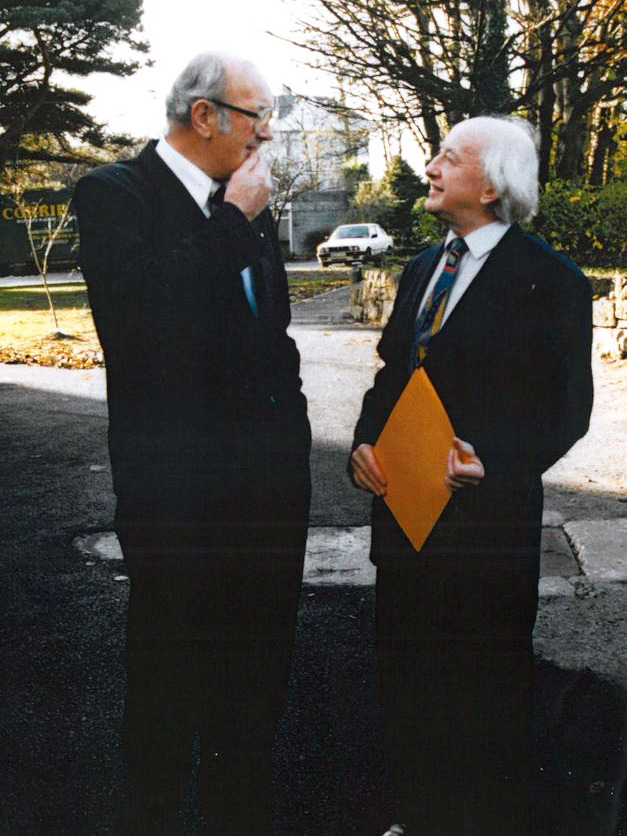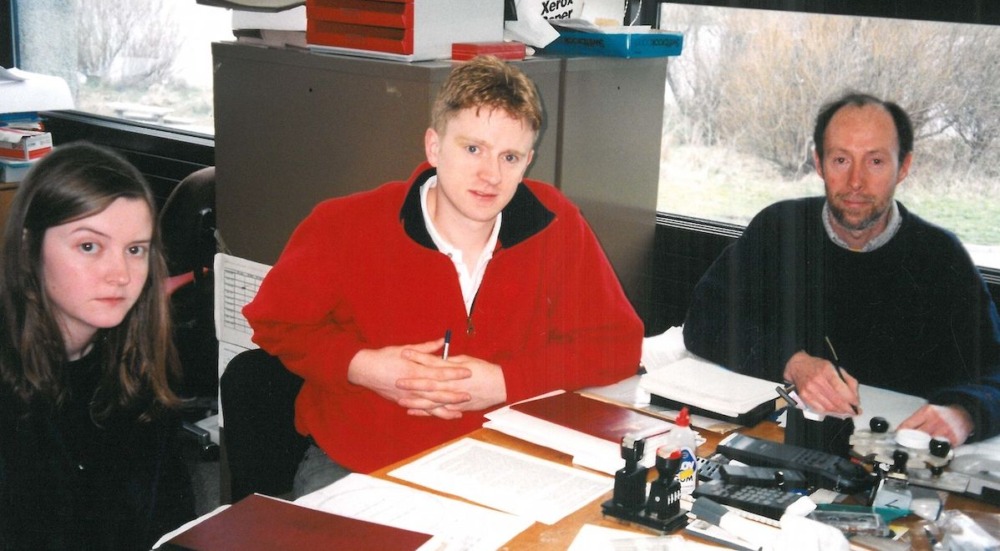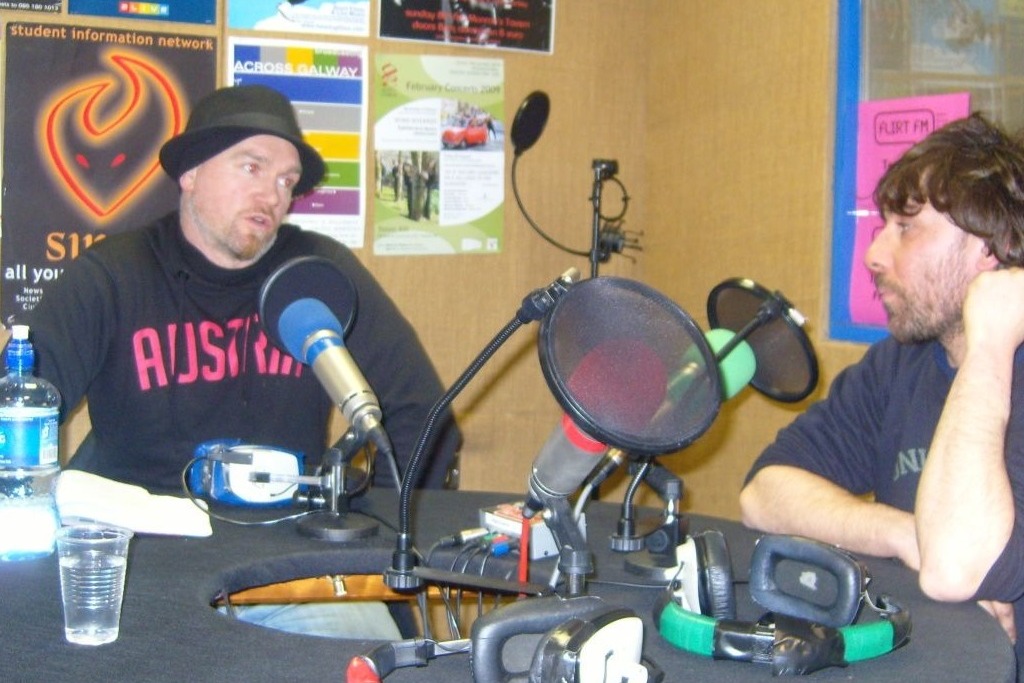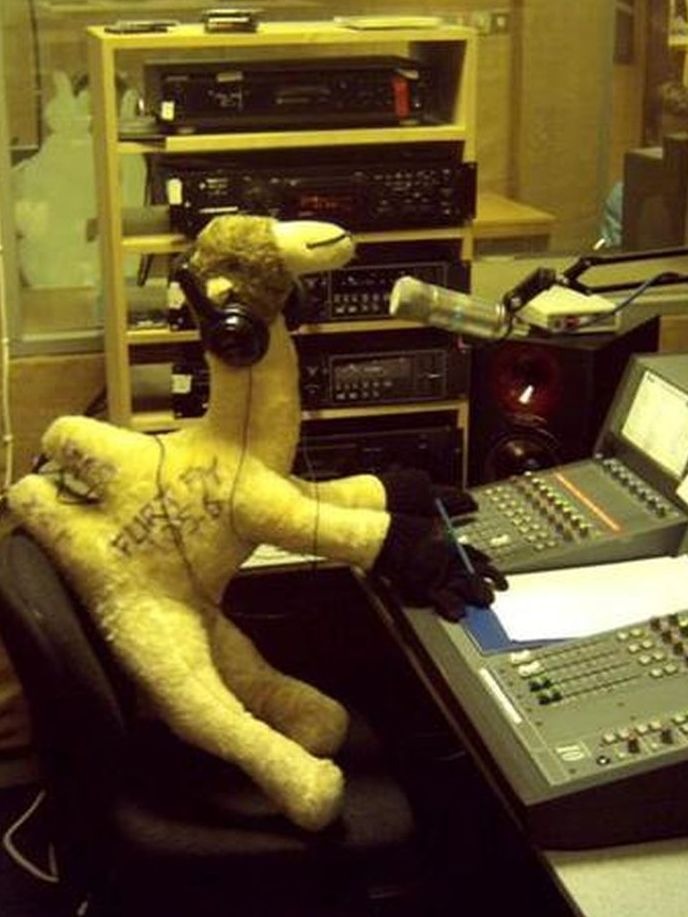 Licenced by the Independent Radio and Television Commission as part of a pilot scheme in community radio, Flirt FM began broadcasting on 105.6 FM on the 28th of September 1995. One of 11 stations in the scheme, Flirt FM was one of four community of interest stations, all operated by third-level institutions. Billed from the start as 'radio by students for students', there were several names for the station floated before one was settled on. The first proposed name was Vox – vox being the Latin for voice and the station being a 'voice for students'. This was rejected as there was a music magazine in the UK called Vox. A competition to name the station was won by future Station Manager Keith Wallace, and "Flirt FM" was accepted by the commission. Backronym or not, Flirt FM stands for Fully Licenced Independent Radio Transmission. (More recently, station staff have decided it also stands for "for lots of information, read the flipping manual", wise words to run a station by.) During this period, the station celebrated RAG weeks with 24hr live broadcasts, no mean feat as automation didn't exist, and every part of each night had to be minded by volunteers.
The station's first station manager was Andrew Ó Baoill, founder and former auditor of the Radio Society. When he returned to his studies in 1996, he was succeeded by Fiona McNulty, then followed Yvonne Igoe, Keith Wallace, Fiona Ní Lionnáin, Aine Lyne, Ross Cunningham and Paula Healy (the latter who they have not been able to get rid of since 2007). Other staff have worked in supporting positions as assistant manager, production manager, head of news or training and outreach officer; Dave Finn, Peter Tiernan, John Walsh, Louise Clarke, Alan Meaney, Padraig McMahon, Eoghan Holland and Heather Hinchon-Quinn.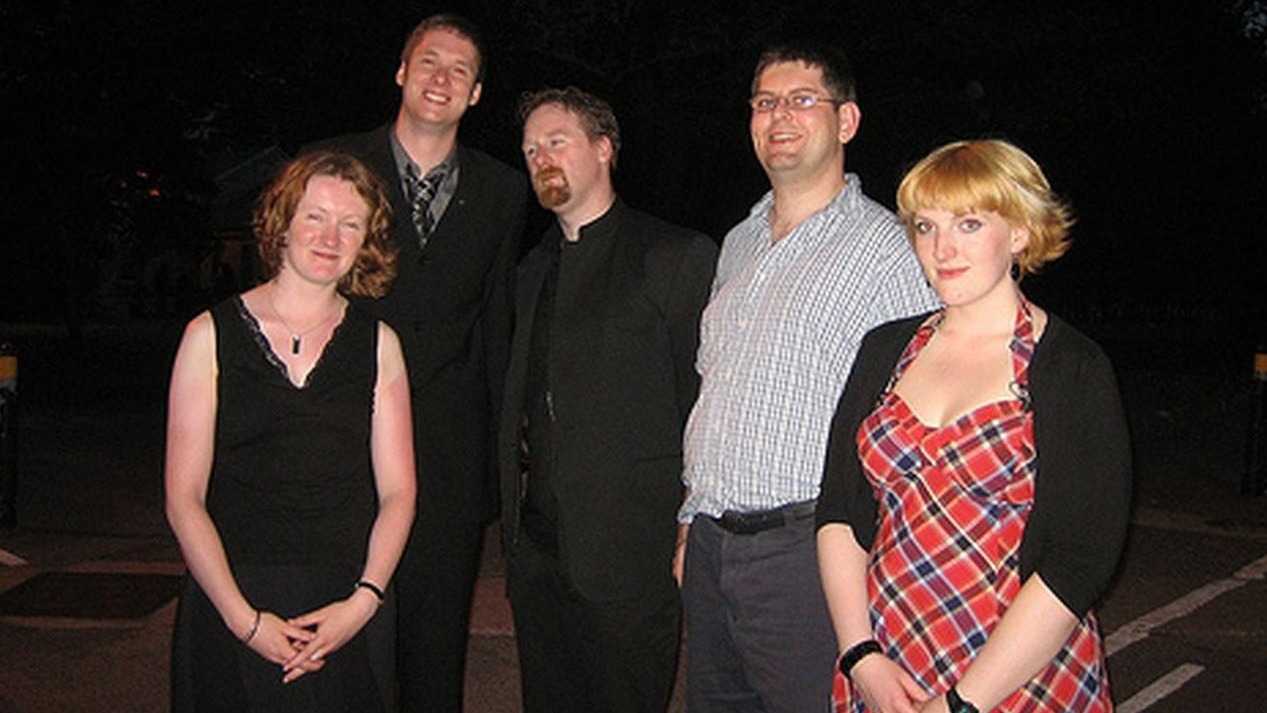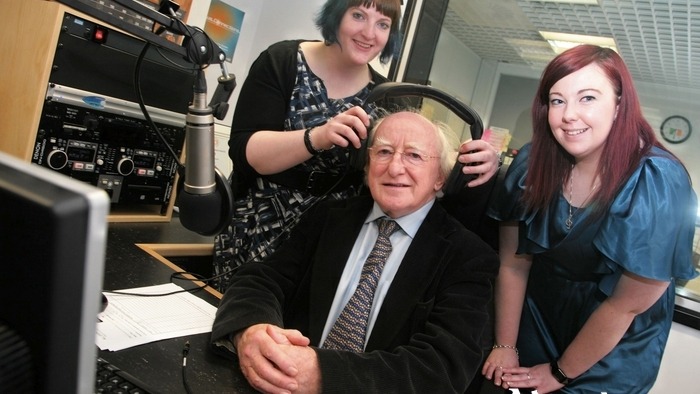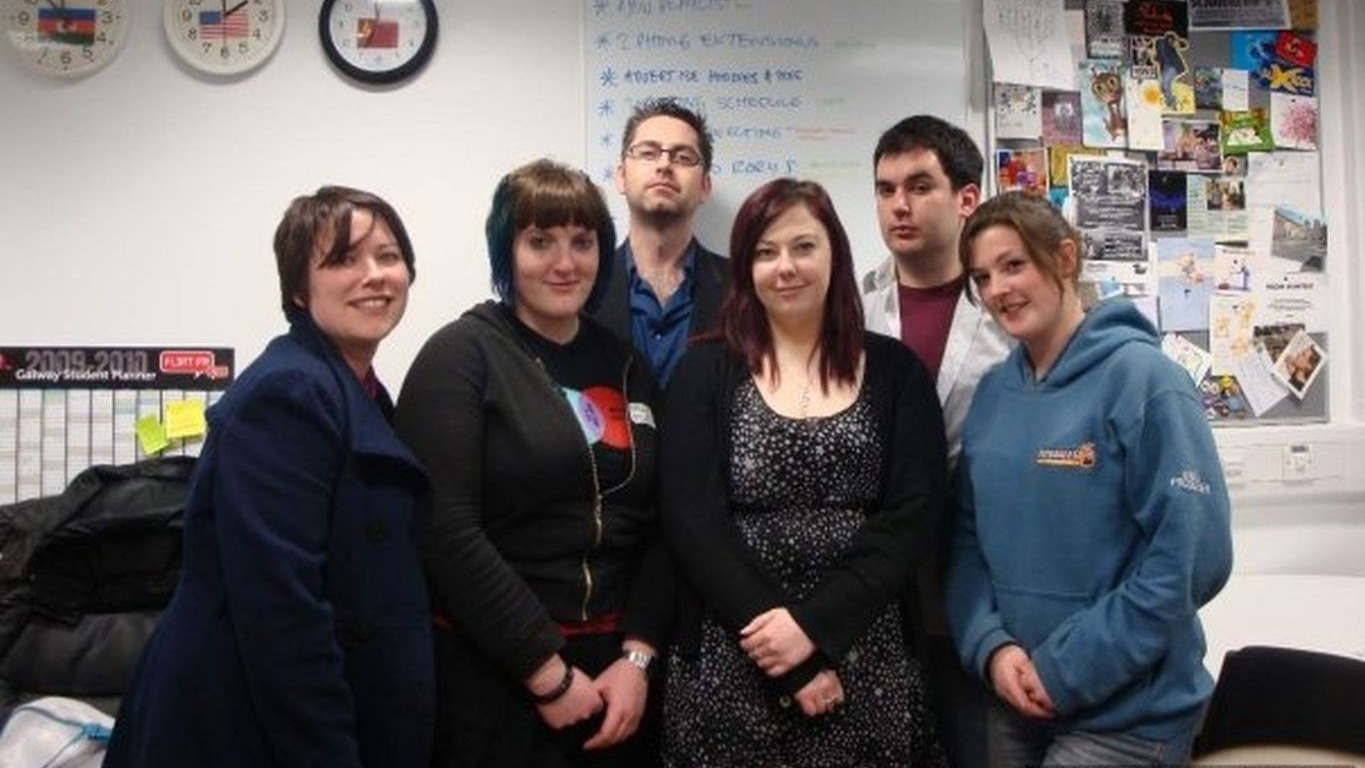 Development:
In 2006 it was time for the station to apply for a new ten-year licence, and thankfully the Broadcasting Commission of Ireland accepted the 70+ page document without clarifications, granted the station the licence, and gave it a new frequency – 101.3 FM. The station also moved its transmitter off-campus to Tonabrocky hill, northwest of the city. The station in this period upped its broadcast from 60 to 100 hours per week.
Next on the timeline, the station made its long-anticipated move from Áras Uí Chathail to the (then) new Áras na MacLéinn in 2009. Pending the move, the station was held together with cable ties and duct tape awaiting the purchase of a brand new sound desk and cables. On the 19th of October that year, Michael D. Higgins returned to launch the new premises. The photo from that day still takes pride of place in the hall of the station. Taking advantage of the space in Áras na MacLéinn, Flirt FM hosted the national Community Radio Conference and Campus Connections conferences soon after. GMIT left the partnership in 2010, after difficulties in running the service meaningfully from both campuses. Students of ATU, in addition to PLC and secondary institutions around the city and county still continue to volunteer individually and are welcome to do so always.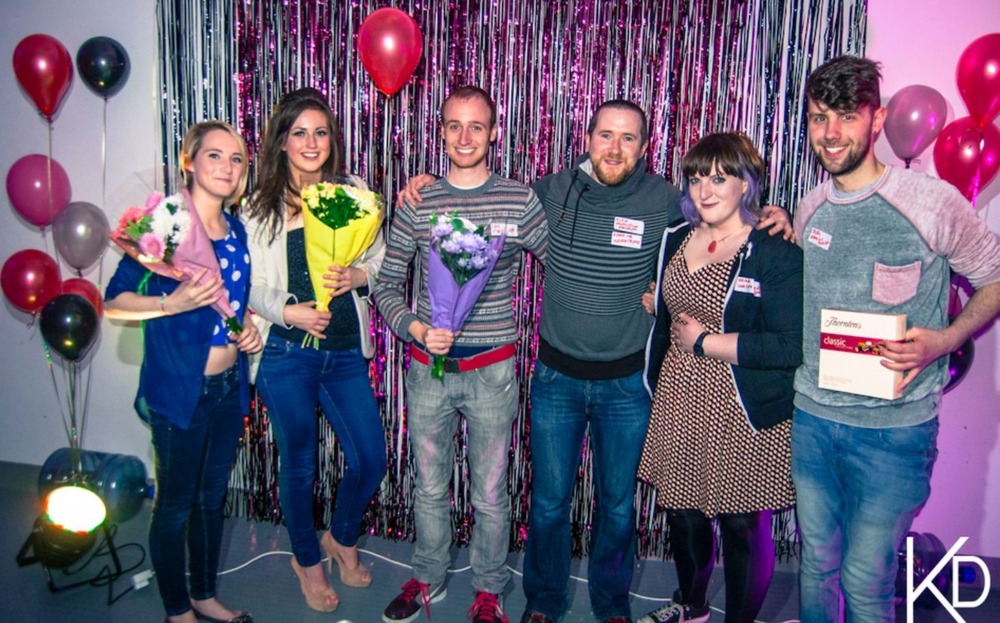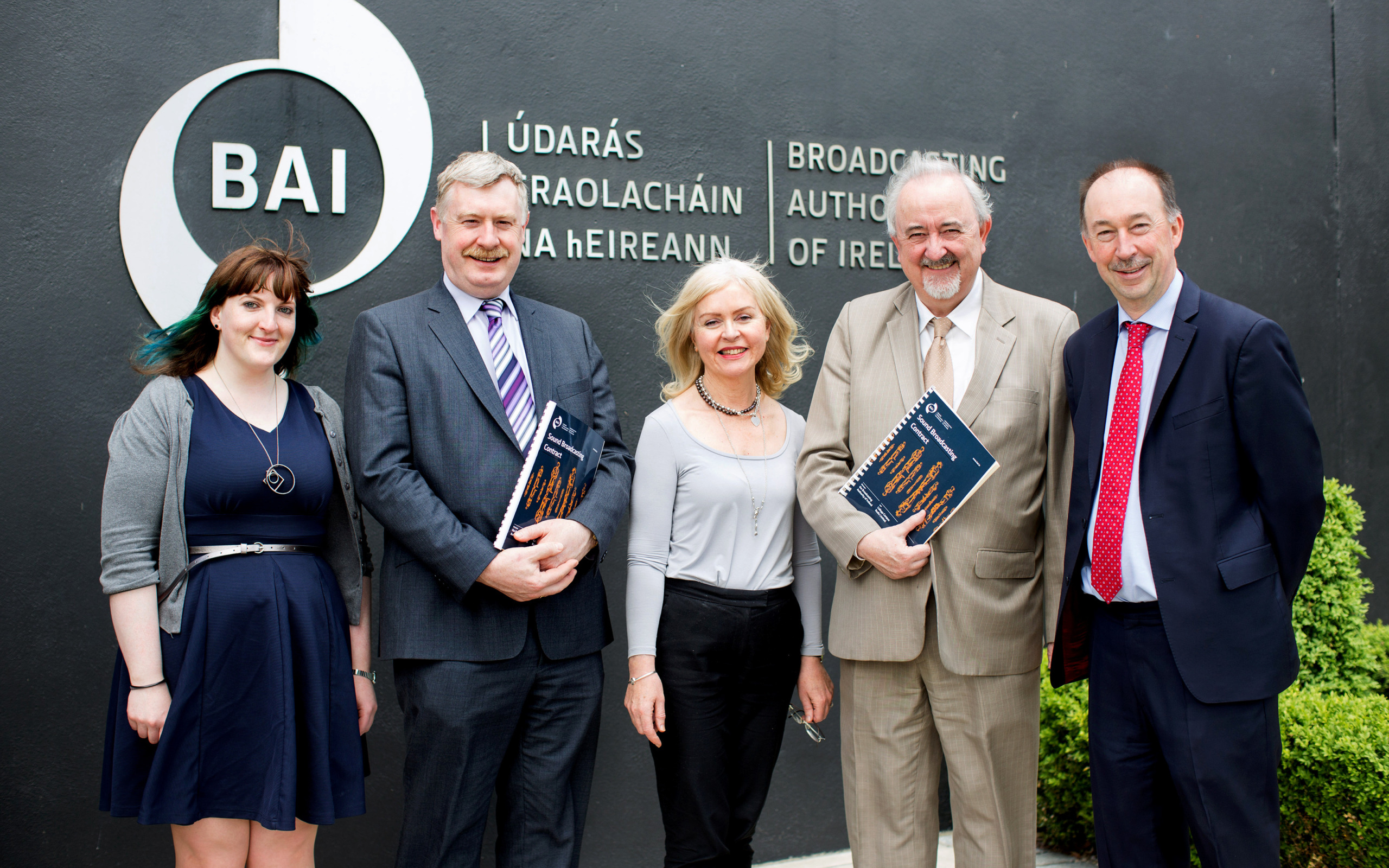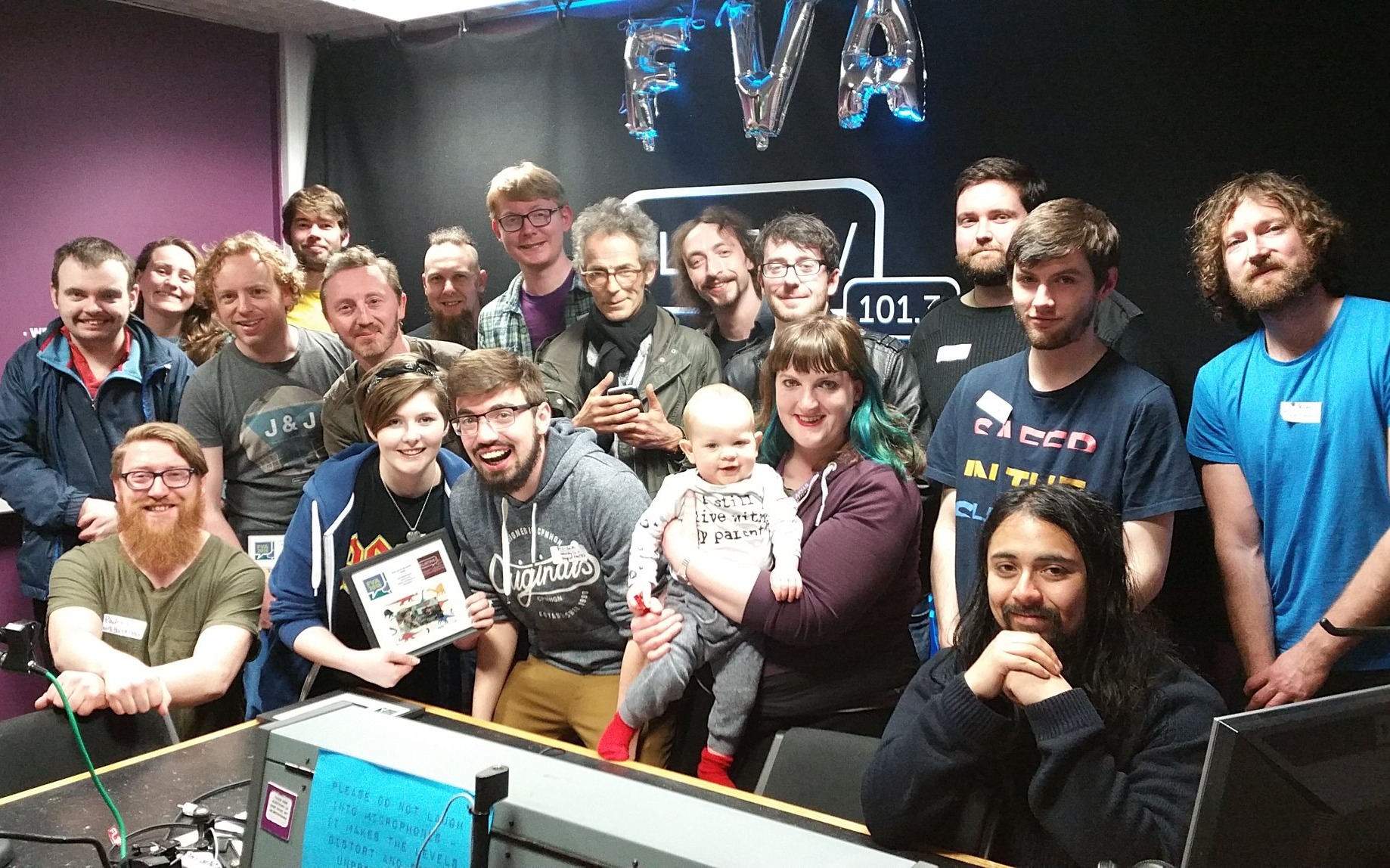 In this time period, the station solidified connections with University of Galway courses and departments, most significantly Acadamh na hOllscoillaíochta Gaeilge and the Department of Journalism and continued its good relationship with the Students' Union and Societies' Office. The station hosted a special broadcast, gala dinner, silent disco, and day of talks for its 20th anniversary in 2015, and before you could blink, it was time for a new ten-year licence in 2016.
As of this academic year, the station is happy to report that while the solid internet connection may not have returned, the human connection has. Fifty new volunteers have been trained in, demoed, and allocated new shows. A 'Live Week' was hosted from the 6th of March to encourage existing volunteers used to recording at home to come back into studio and new volunteers to try going live for the first time, instead of pre-recoding. There were 25 people in the 4 rooms of the station at some points over the week and the buzz of excitement and activity was palpable. This year the station also launched three Digital Badges with CELT, and the first 20 Radio Essentials micro-accreditations were awarded, with another wave due at the end of semester.
Everything was trundling along, with the station pre-empting and adapting to new technological advances, broadcasting thousands of hours of radio a year, with up to 150 volunteers and countless guests, then along came 2020…
Along with the rest of the university, Flirt FM staff and volunteers left on Friday the 12th of March, thinking it might be some weeks before normal operations could resume. Cue a year of remotely accessing the studio computers, doing news headlines from kitchen tables, running the web stream from a sitting room, and growing square-eyed from Zoom. Throughout this, station staff were terrified that either or both of the two studio PCs would shut down, as there was no way of getting back into Áras na MacLéinn to restart them, despite radio being classed as an essential service. The building was being used by the HSE as a potential Covid filed hospital, and infection controls meant zero access. Station volunteers astounded us with their dedication, learning how to record at home and continuing to send in shows. In fact, at the height of travel restrictions, the station briefly went 24/7 for the first time, providing an outlet and companion for the community. This also saw the beginning of the 'Community Takeover', one of the best developments in station history. Remote recording and hosting technology meant that not only could existing volunteers and guests broadcast, but now more groups and people that may have found travel difficult could access the airwaves. The station has had a paradigm shift in terms of community engagement and inclusion as a result.
Core staff, working separately in shifts were allowed one-off access to the studio to run a "live, extremely socially distanced, 25-hour broadcast marathon" linking station alumni to the studio live via Zoom from locations as varied as Paris, California, Vietnam, Mayo to celebrate the 25th anniversary in September 2020. Not the social heights of the 20th celebrations, but it felt massive given the circumstances of the ongoing pandemic.
As life returned to campus, the university was hit by a cyberattack, and this proved to be an even larger impediment to broadcasting than Covid. Relying often on pre-pay dongles to web stream the station and download submitted shows, data coverage was so tenuous that staff, interns, and volunteers had to work from home. The result was the station – and campus – were still quiet, not yet enjoying the gradual return of on-site liveliness that other institutions benefitted from. The website also was decimated and had to be replaced by a new one, however the new flirtfm.ie is more flexible and updatable.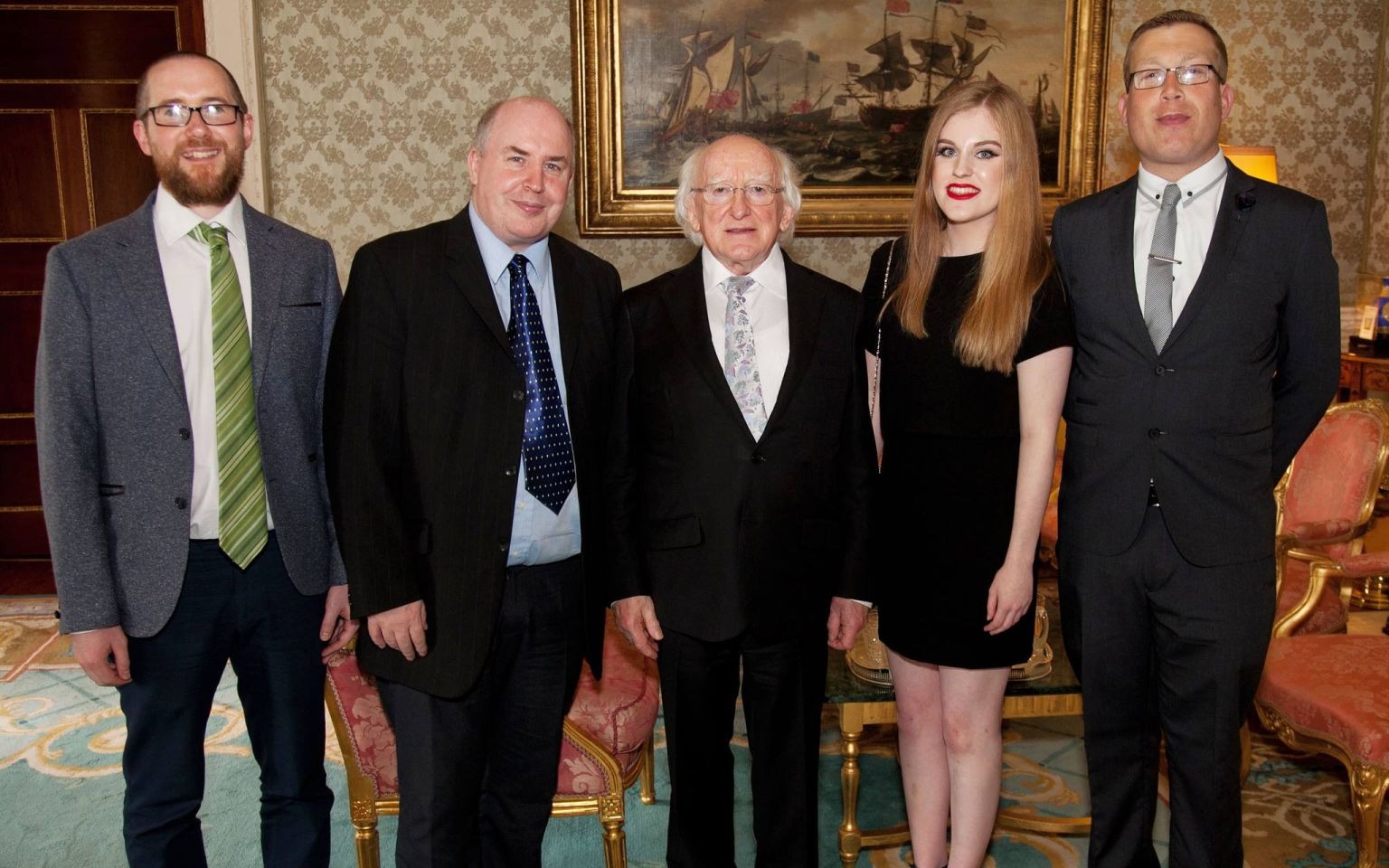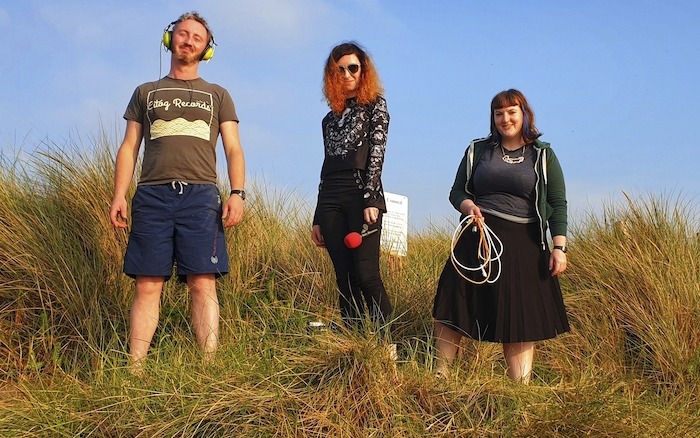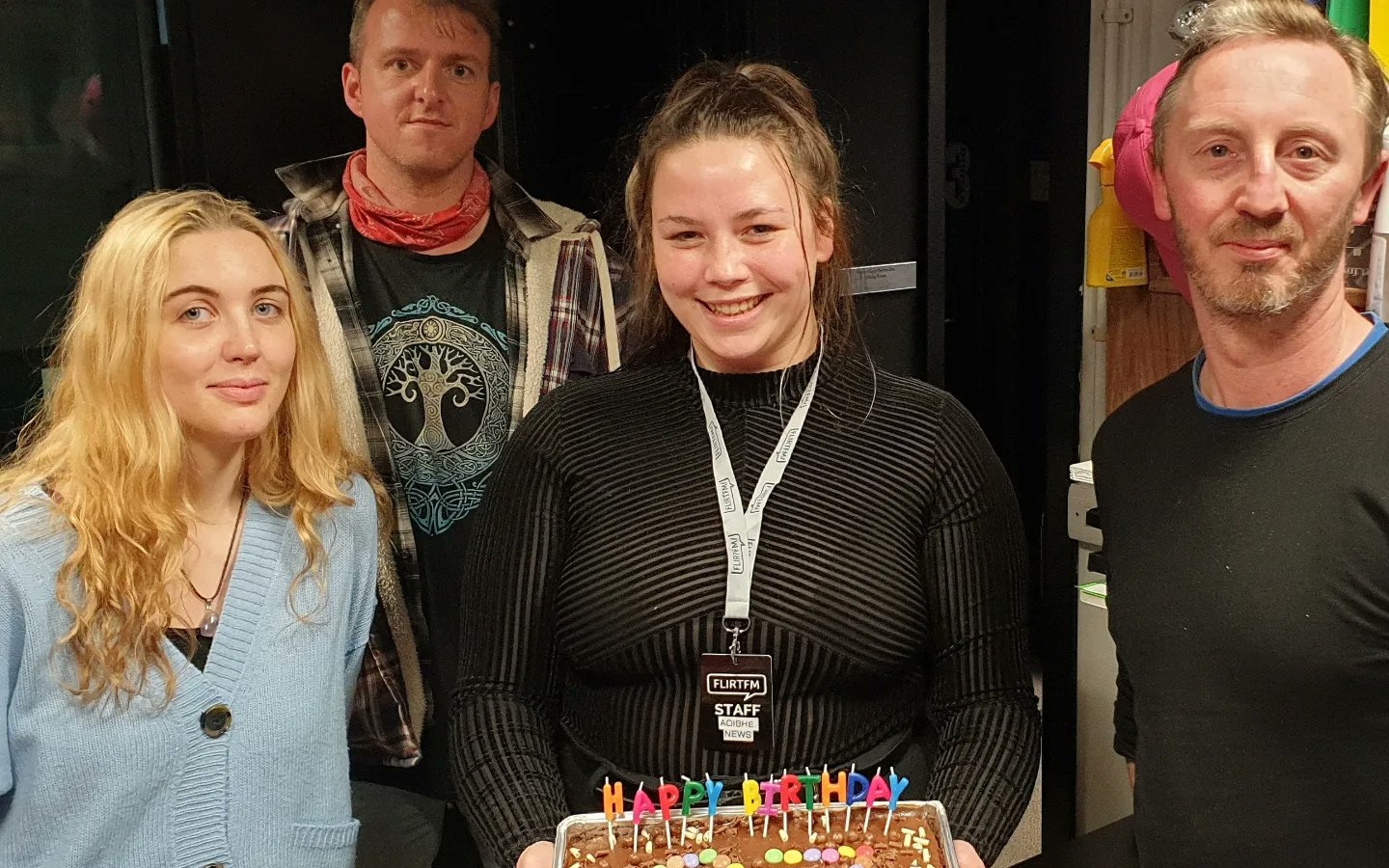 Following on from Covid, the way the station runs has changed, for the better. All rooms have been acoustically treated, so each part of the station can be used for recording, making it a more flexible resource. A new digital desk has been installed in Studio 2, so that staff and students can gain experience on an industry-standard piece of gear, equipping them with even more transferrable skills. The community takeovers continue, with 40+ groups taking over the station to tell their own stories each year.
With two full-time, one part-time paid staff and interns looking after operations and compliance, the station is now home to up to 150 volunteers and many more contributors annually. We also host third-level, TY, Tús and CE placements each year. We are delighted to partner with Foróige, Shining Light, Baboró International Arts Festival for Children, the University of Galway's Office of the Vice President for Equality, Diversity and Inclusion, MAs and BA in Journalism, BA in Global Media and Acadamh na hOllscolaíochta Gaeilge amongst others to regularly create programming.
We're on FM 11:00-04:00 Monday-Friday, 13:00-22:00 Saturdays, and we web stream 24/7 all of the time, so even when we're not live on 101.3 you can always listen in. We take time off FM during the busy campus exam periods. Our key areas of broadcast focus are student issues and news, local sports, environmental and science updates and new Irish music.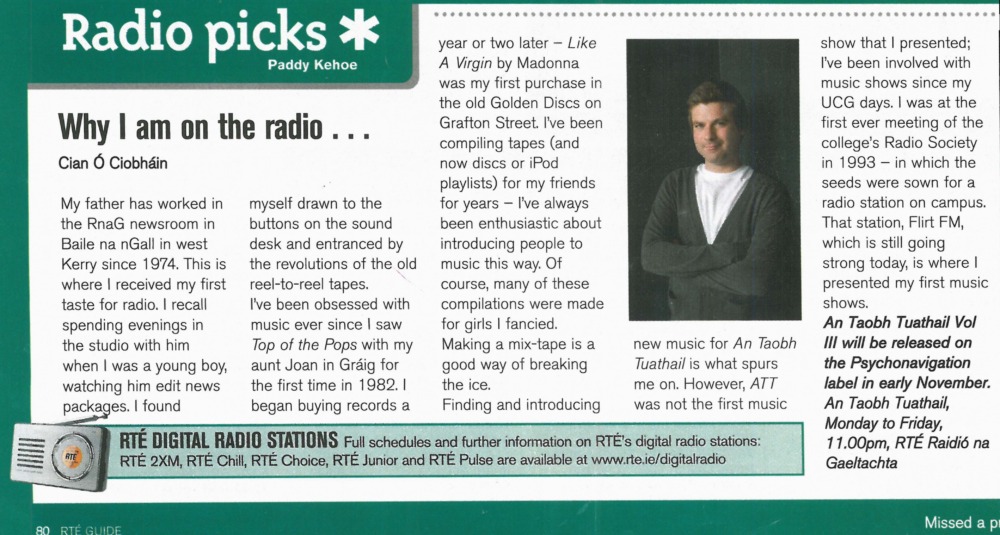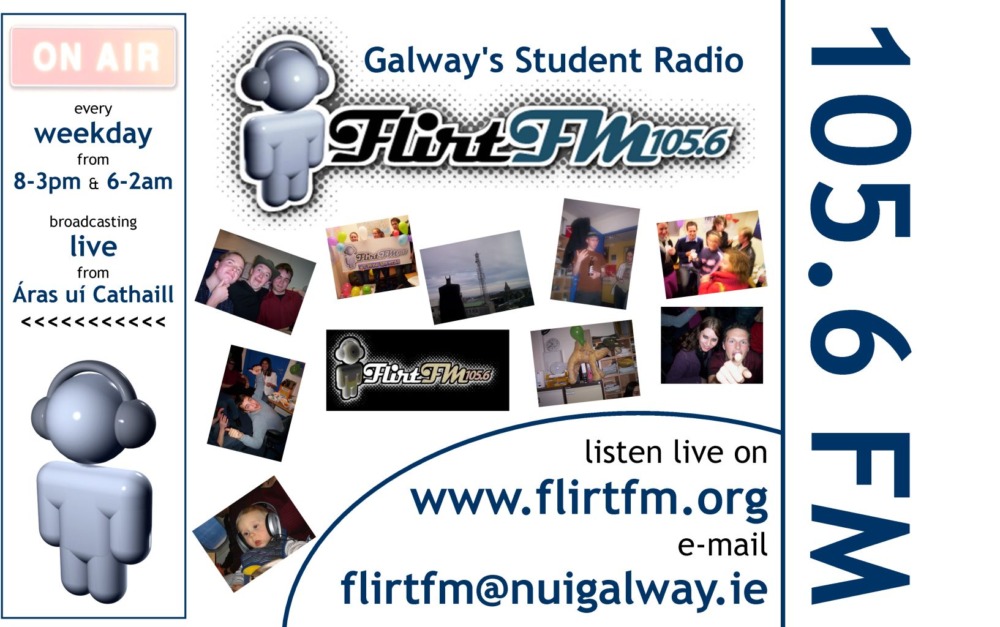 Over the years we've had floods, power cuts, equipment failures, vital cables being chopped, transmitters dying and overheating, restricted access to the building, tears, long hours, and exasperation. The station is the sum of all the problems that it has solved and overcome now. We're currently thinking tentatively about what to do for our 30th anniversary, but for now, we're delighted to have been broadcasting for 27 years thanks to 1000+ volunteer presenters, thousands of guests, listener and community supporters and endless cups of tea, coffee and snacks.
(For media nerds; the IRTC or Independent Radio and Television Commission was followed by the BCI/Broadcasting Commission of Ireland, then the current BAI/Broadcasting Authority of Ireland, which is now Coimisiún na Meán. Hope that comes up in a table quiz for you some day).
Station Staff Through the Ages
Name
Role
Date
Andrew Ó Baoill
Acting Administrator
01/03/95-30/08/95
Station Manager
01/09/95-30/09/96
Fiona McNulty
Station Manager
01/10/96-15/10/98
Yvonne Igoe
Station Manager
16/10/98-12/04/00
Keith Wallace
Acting Manager
03/04/00-18/06/00
Station Manager
19/06/00-01/10/01
Dave Finn
Acting Manager
02/10/01-21/10/01
Fiona Ní Lionnáin
Station Manager
22/10/01-15/05/03
Aine Lyne
Station Manager
21/05/05-31/12/04
Ross Cunningham
Station Manager
24/01/05-29/11/05
Paula Healy
Assistant Manager
24/01/05-29/11/05
Acting Manager
30/11/05-27/03/07
Station Manager
28/03/07-Present
Peter Tiernan
Assistant Manager
28/11/05-02/03/07
John Walsh
Production Manager
25/06/07-10/06/08
Louise Clarke
Production Manager
23/06/08-25/01/13
Alan Meaney
Production Manager
15/04/13-24/02/16
Eoghan Holland
Head of News
23/11/15-Present
Padraig McMahon
Training & Outreach Officer
12/07/17-31/12/19
Heather Hinchon-Quinn
Training & Outreach Officer
01/11/20-Present
Flirt FM Turns 20 Mini Documentary (produced by Colm Dunne)