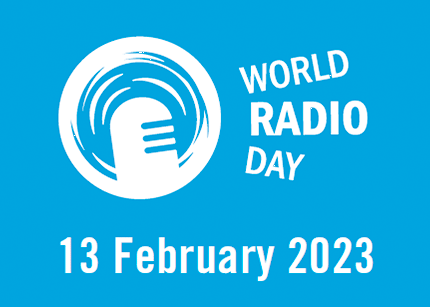 World Radio Day Special Shows
On Monday 13th of February Flirt FM joins radio stations around the world in celebrating UNESCO World Radio Day. In addition to our regular programming, we'll be presenting guest shows from 10+ international stations.
Organisers of the annual exchange, radio x, have gathered shows from Germany, Austria, Switzerland, Greece, Ireland, Scotland, Canada, Georgia and Palestine.
We start at midnight for a full 24hr celebration of all things radio.
00:00 Beton7 ArtRadio Athens
01:00 CJLO 1690 AM Canada
02:00 coloRadio
03:00 Marneuli FM Georgia
04:00 Orange 94.0 Vienna
05:00 radio blau Leipzig
06:00 Radio FRO Linz
07:00 Radio Rasa Schaffhausen
08:00 Subcity Radio Glasgow
09:00 Flirt FM (Caoimhe, Aoibhé & Darragh)
10:00 radio x Frankfurt
11:00 Tunes
11:30 Early Newsfeed
12:00 Lavender Listening
13:00 Scoth na Seachtaine
14:00 Vested Interest
15:00 Wireless on Flirt FM
16:00 Culture Shock
17:00 Newsfeed
18:00 Happy Hour – Global Media
20:00 AN HOUR!?
21:00 Bleeding Eardrums
22:00 Indieocity
23:00 Radio Survivor