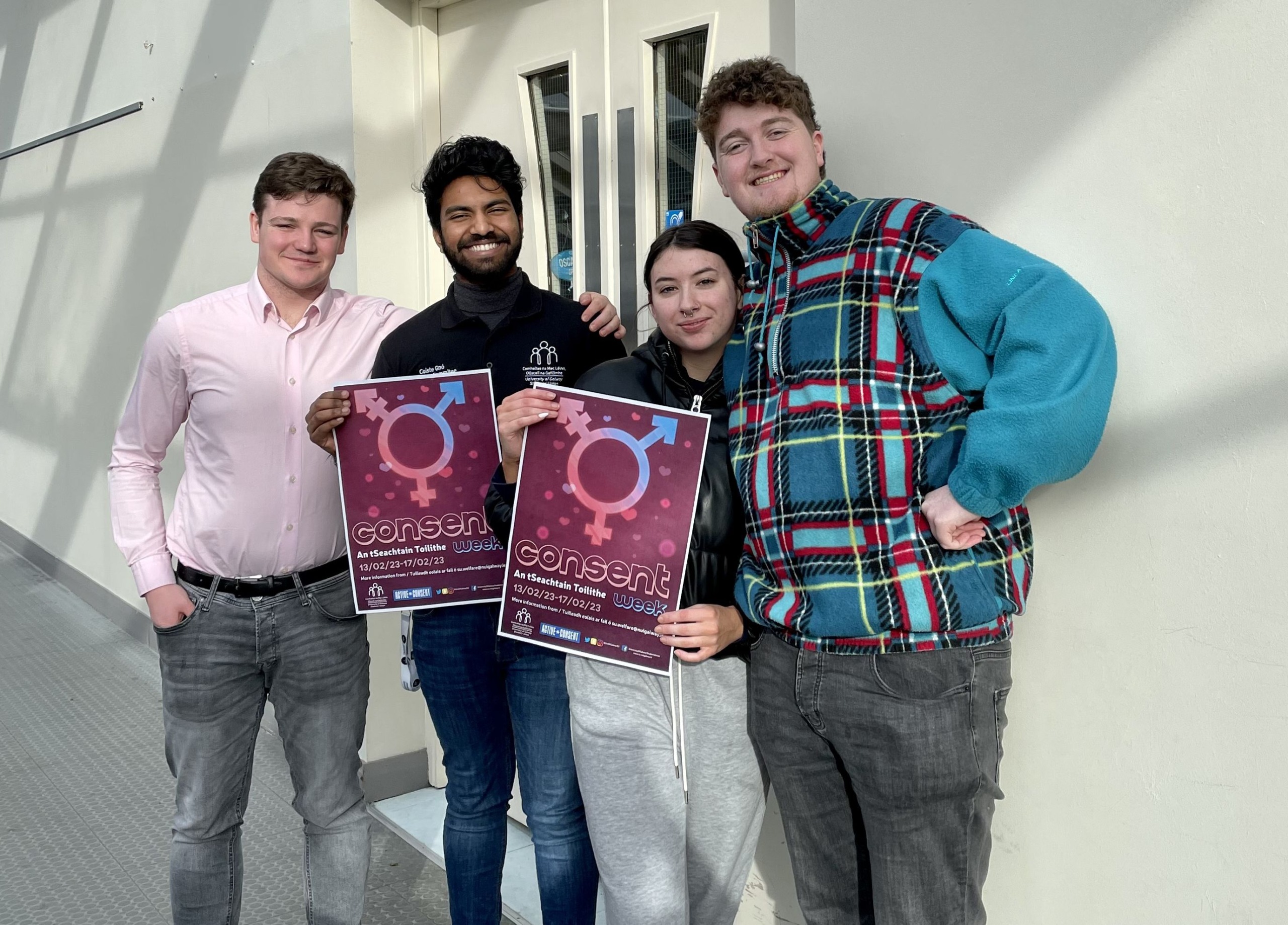 University of Galway SU launches Consent Week
University of Galway Students' Union are running a series of events to mark their annual Consent Week which runs 13th – 17th February. These events, in partnership with Active* Consent, will look at key issues impacting on the Sexual Health and Wellbeing of students. There will be workshops, STI testing clinics, a Galentine's Day brunch and a self-care session during the week.

The Active* Consent workshop will provide a safe space to explore the nuances of sexual intimacy and consent so if people choose to be intimate with others it will be mutually consensual, mutually enjoyable and done safely. This workshop is interactive, informative, based on understandings of the context in which young people are exploring their sexuality now, and share practical skills relevant for their
own relationships.
 
Students' Union Vice-President/Welfare and Equality Officer Imogen O'Flaherty Falconer said: "We have some great workshops and events coming up this week for Consent Week. Students' Unions and Universities need to take a strong lead in ending the culture of victim blaming as sexual violence and harassment are still prevalent issues in today's world. Consent is Ongoing, Mutual and Freely Given –
this is the core message of the University of Galway Active* Consent programme."

[Pictured (left to right): Joe Mee, Sai Gujulla, Imogen O'Flaherty Falconer and Barry
Ó Siochrú (University of Galway Students' Union)]
---
Seachtain an Toilithe Seolta ag Comhaltas na Mac Léinn, OÉ Gaillimh

Tá sraith imeachtaí eagraithe ag Comhaltas na Mac Léinn, OÉ Gaillimh mar chuid den chéad Seachtain Toilithe riamh, a bheidh ar siúl idir an 13 agus an 17 Feabhra. Breathnóidh na himeachtaí seo, a reáchtálfar i gcomhpháirtíocht le Active* Consent, ar na príomh-shaincheisteanna a bhaineann le Sláinte agus Folláine Ghnéis mac léinn. Reáchtálfar ceardlanna, clinicí tástála um ionfhabhtú gnéas-tarchurtha (STI), bróinse Lá na gCairde Ban (Lá Galentine) agus seisiún féinchúraim i rith na seachtaine.

Soláthrófar spás sábháilte sa cheardlann Active* Consent chun fiosrú a dhéanamh ar na gnéithe caolchúiseacha a bhaineann le dlúthchaidreamh gnéasach agus toiliú. Ar an gcaoi sin, má roghnaíonn daoine dlúthchaidreamh a bheith acu le daoine eile, tabharfaidh gach duine díobh toiliú, bainfidh gach duine sásamh as agus beidh gach duine slán sábháilte. Ceardlann idirghníomhach, faisnéiseach a bheidh ann, agus í bunaithe ar thuiscint ar an gcomhthéacs ina bhfuil daoine óga ag plé lena ngnéasacht féin sa lá atá inniu ann. Roinnfear scileanna praiticiúla a chabhróidh leo ina gcaidrimh féin.
 
Dúirt Uachtarán Chomhaltas na Mac Léinn, Sai Gujulla: "Tá súil againn go spreagfaidh imeachtaí Sheachtain an Toilithe ár gcuid mac léinn chun dearcadh freagrach a ghlacadh maidir le sláinte ghnéis agus caidreamh sláintiúil. Tá neart le déanamh fós againn, i sochaí na hÉireann, chun deireadh a chur leis an 'gcosc' ar bheith ar labhairt faoin ngnéas. Ba mhaith linn go mbeadh eolas ag ár gcuid mac léinn ar a gcearta gnéis."