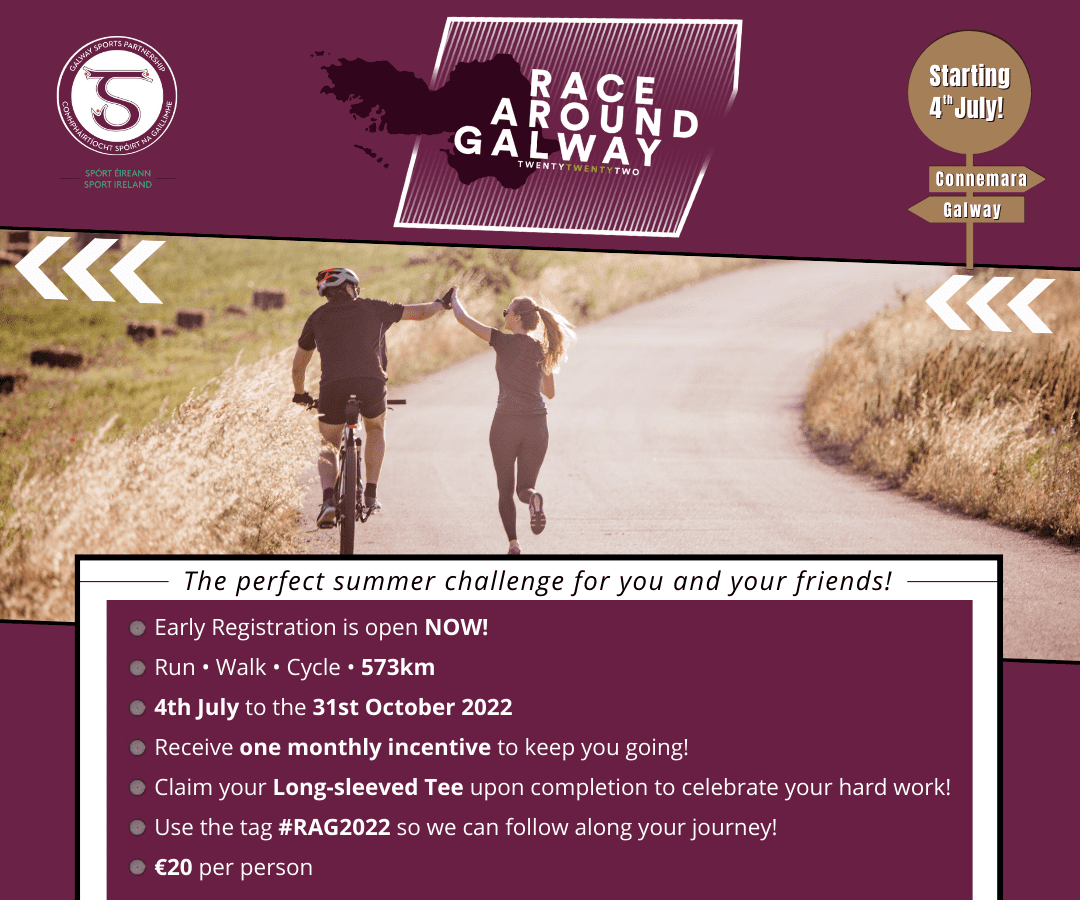 Race Around Galway
For the second year running (😉), Galway Sports Partnership (GSP) are launching its summer programme, Race Around Galway. Last year, hundreds of participants walked, cycled or ran 573km, equivalent to Galway's circumference.

The same concept goes for this year's programme, where participants are encouraged to challenge themselves, friends, and family to complete the race within a four-month period. The programme is aimed at individuals looking for a virtual challenge to keep the motivation and fitness going over the summer months whilst enjoying the lovely county of Galway and what it has to offer. This year, participants can choose to complete the race in whatever way they like – cycle, swim, walk, roll, run; it is simply up to you! To ensure that all participants stay consistent and inspired, GSP sends a monthly incentive and a progressive monthly planner, which will support the participants in completing the programme.

Upon completion, all participants will receive a lovely Long-Sleeved Tee to mark their fantastic achievement. Early registration is now open, and the race starts on the 4th of July 2022. Participants have until 31st October to complete the challenge.
"Relaunching this programme for the second time is so exciting. The 573km can seem a bit daunting at first, but our participants made it seem like a breeze last year, so we are in no doubt everyone will smash the challenge this year as well!"

Marketing Executive, Angelica Wilcox
Key Information:
Complete the circumference of Galway (573km)
4th July to 31st October 2022
One monthly incentive
Long-sleeved Tee upon completion
€20 per person
Use the tag #RAG2022 on social media
You can find out more on Eventbrite