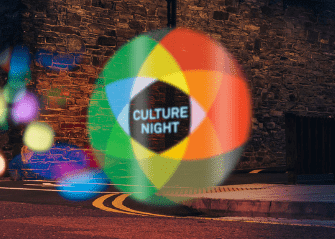 Galway Culture Night 2022
One Night for All Friday 23 September
Galway City Culture Night takes place on Friday 23 September. Galway City will host over 50 events with 200 artists participating in a diverse programme of visual arts, music, film and storytelling.
VISUAL ARTS
Kicking off the programme is Just Art It, the creative community in the West End with hands-on print demonstrations led by visual artist and printmaker Elena Santos from 5pm. The event will also provide a talk and practical demonstration on the practice of printmaking editioning.
From 6pm Forge Artists Aoife Natsumi Frehan and Emma O' Toole will deliver two Pumpkins and Prosecco workshops, a fun and inclusive introduction to ceramics. The participants will get to decorate, paint and design using underglaze. There is limited space in the studio, so booking through Eventbrite is advised.
Galway Cartoon Festival will launch their 2022 Festival Programme on Culture Night at the Galway Distillery featuring the opening of the exhibition Moon Cartoons from 6pm. A collection of artists will be creating drawings and digital art in real time whilst inviting attendees to interact. Get your caricature drawn, learn how to create a cartoon, and catch a preview of the exciting 2022 festival.
Join the artists of the Array Collective in a lively chat and Q&A about their Turner Prize winning work The Druthaib's Ball currently on exhibit in Galway Arts Centre. The Druthaib's Ball is a built installation that invites audiences into an immersive experience reflecting the lively community hub of the Irish síbin, a long-established tradition of an illegal bar and space of contradiction, dark humour, and craic.
MUSIC
Join Galway Arts Centre and Áras na nGael for ceol agus craic in the unique setting of the immersive installation of The Druthaib's Ball with traditional Irish musicians Ciarán de Burca + Cairde in this open trad session! Expect traditional Irish music, singing and chat and the invitation to join in a sing song! All taking place in the centre of a unique and immersive Turner Prize winning artists installation from 10pm to midnight!
Galway City will host a night of uplifting singing from two of Galway's finest choirs. The IGNITE gospel choir singing gospel greats and the VILLAGE Choir performing modern contemporary music. A Sing-along will be encouraged!
LITERATURE
The Black Gate presents BEYOND THE GATE, a hybrid evening of literature and music curated by The Black Gate and featuring some of Galway's finest and most prolific writers and performers at the Mick Lally Theatre from 10pm. Alan McMonagle has published two collections of short stories and contributed stories to journals in Ireland and North America.
Eva Bourke is the author of seven poetry collections and numerous translations including a selection of the German poet Elisabeth Borchers in English, as well as two comprehensive anthologies of Irish poetry in German. Anna Mullarkey is an award-winning composer and performer from Galway, whose music weaves electronics with piano and voice. The Irish Times called her "phenomenal" and Irish Theatre Magazine described her music as "if a sultry ménage of Björk/Billie Holiday/Philip Glass got together at the Wickerman Festival.
The Galway City Library will host a series of readings from 6 to 8pm. Join writers Jimi McDonnell, Aoibheann McCann, Sacha White & Simon Costello for a programme of poetry and fiction. The readings will be followed by a performance of a short play written by Anthony Daly.
Galway Arts Centre at Nuns Island Theatre hosts a very special storytelling event by master storyteller, seanchaí and author Eddie Lenihan from 9pm. Sharing Irish heritage and history for over 50 years, Eddie Lenihan has dedicated his life to collecting Irish oral histories and stories and publishing over 17 books. A national treasure, he has delighted generations of people in Ireland and all over the world with his stories of faeries, (The Good People) ogres, monsters, banshees, giants, ghosts and much, much more. Expect some spine-tingling scary stories for older children and adults!
FILM
Galway City of Film facilitated by Ardán, and with the support of Galway City Council, will be celebrating Culture Night 2022 on September 23rd with a special public screening in Eyre Square from 8pm to 10pm. This screening will be free and open to the public and will show a programme of short films made as part of Galway City of Film activities over the last two years.
The programme will include films from the short Documentary Scheme, the 48 Hour Challenge, and the Misleór Bursary and will show different examples of the amazing filmmaking going on in Galway City. So, while on your annual Culture night pilgrimage through Galway City, don't forget to stop by Eyre Square for some unforgettable films out in the open air!